Dear Valued Client,
We hope this message finds you and your furry friends in good health and high spirits. We wanted to inform you about some upcoming changes at our grooming salon that will affect our hours and staffing. While we understand that change can be unsettling, please rest assured that we are dedicated to maintaining the quality of service you've come to expect from us.
Starting immediately, we will be adjusting our grooming hours and will be down one groomer due to unforeseen circumstances. However, we have an amazing team in place, and we are confident that your pets will continue to receive the same level of care and attention they deserve. Our remaining and extremely talented groomers, Caitlin and Kristi, have generously offered to pick the extra days to ensure your pets are pampered to perfection.
Moving forward, our hours of operation will rotate from open Monday, Tuesday, Wednesday, and Thursday to open Monday, Tuesday, Wednesday, and Saturday. We've provided our hours of operation for November below. If you have any questions, please don't hesitate to give us a call.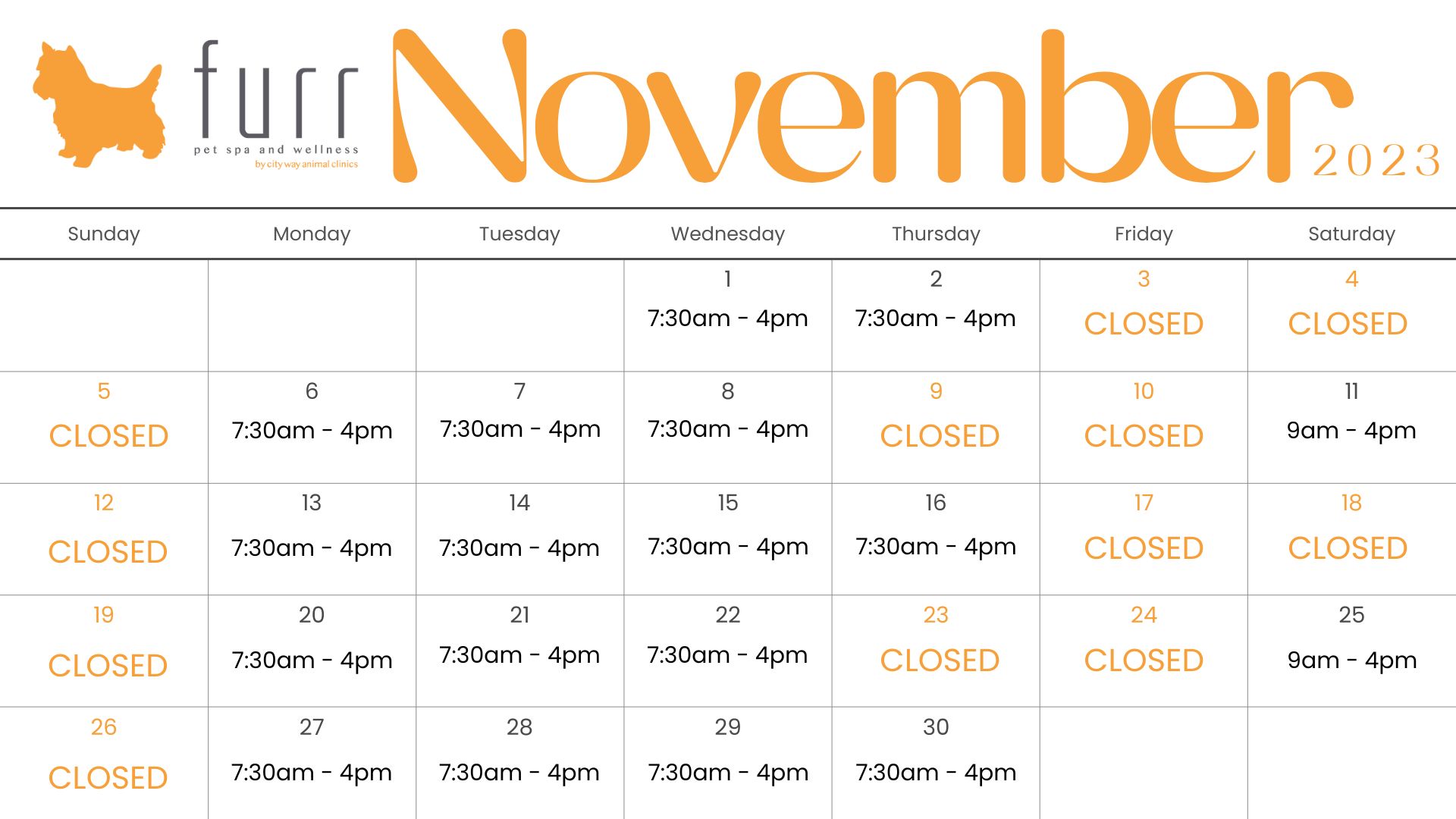 In the rare event that we are unable to accommodate your pet within your desired dates, we want to inform you that our sister location, City Way: Irvington, is readily available and more than happy to serve your grooming needs. They share our commitment to quality service and would be delighted to welcome your pets.
We sincerely appreciate your understanding and support during this transition. If you have any questions, concerns, or need to reschedule an appointment, please don't hesitate to reach out to us at 317-737-2502.
Thank you for entrusting us with the care of your beloved pets. We look forward to continuing to serve you and your furry companions with the utmost dedication and care.
Sincerely,  
City Way Animal Clinics – FURR Pet Spa